Ohmigod, I loooove that show! I binged it last summer! – someone you know, probably
In today's TV culture, watching several episodes of a show in a row is common. Thanks to Netflix and other various services, having access to more episodes and shows than you can imagine means no waiting for viewing material. The term for watching many episodes in one sitting has two names: marathoning and binge watching.
These two words mean the same thing, and yet I wonder, is there a difference? Why do we need two words to describe the same specific act? For the longest time, I personally said marathoned. Even when Netflix was around, I still said marathoned. Though Wikipedia says the term binge watch has been around since the late 90's, it really came into popularity when Netflix did. Netflix advertised the term so much that right now, it's more popular than marathoning.
But why?
Well, let's think of the words themselves. What's a marathon? If you Google "define marathon" this is what you get: a long-distance running race, strictly one of 26 miles and 385 yards (42.195 km). Naturally, we think of the running race. Marathons are not easy to complete. It takes months of training and preparation and running one takes a lot of strength and determination. Goodness knows I could never do one. I can't even run up the stairs without getting winded. But all in all, marathon is not a bad word. It's associated with powerful, prideful things.
But then there's binge. Google search "define binge" and you get: a short period devoted to indulging in an activity to excess, especially drinking alcohol or eating. Of course that word is tied to the unpleasant ideas of binge drinking and binge eating, which is tied to the deadly eating disorder anorexia. Bingeing is not seen in a positive light at all. Unlike marathon, it is a bad word, I'd argue.
So why do these very different words both mean the same thing in the TV sense?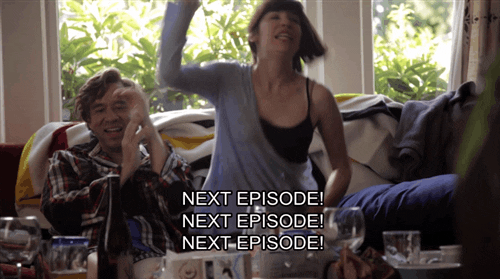 If the use of the word was to critique the idea of watching many episodes of something, you'd think society would use marathoning so to make it seem like a good idea that more and more people should participate in doing. And yet, here we are, almost glorifying the idea of bingeing. So I suppose my answer is it's because we know that spending hours upon hours in front of a TV isn't necessarily a great habit, so we use the term binge more.
In the grand scheme of things, I guess it's not that big of a deal. As someone who has marathoned/binge watched shows several times (and enjoys doing it), I can tell you I'm not too affected by the technicality of the name. It's just something kind of interesting to consider.
If you have thoughts on the matter, drop me a comment and we can discuss! And take this poll because it takes literally two seconds and polls are fun!
P.S. If for some reason you've read this exact post before on the internet, I actually wrote it for a blogging course I took last semester in university, so it's all my own words, I'm just reposting it on my real blog!
Follow me: Twitter / Facebook / Bloglovin'