At my internship, I've been doing a lot of Twitter work, meaning I've spent hours scrolling through the feeds of various elementary schools, principals, and teachers. Now, I know I'm not that old and it's only been eight years since I was in elementary school (feels a lot longer, though), but so much has changed.
My generation of peers are a very interesting group because though we grew up with technology, it didn't consume our lives. So I can adapt to new tech and programs a lot better than my mom can, but I'm no hacker and I can't really code. I'm pretty average, I'd say. Video games and TV and mp3 players and computers were around when I was a kid, but they weren't a big deal. My life became tech consumed in high school and it's at the point now where if I'm awake, I'm using some form of technology. Whether that's healthy or not is beside the point. My point is that my elementary experience was very different to what I'm seeing now via Twitter. We had those big boxy beige computers in our classrooms, and I remember when my school got smartboards because they were the coolest, but only two classes got them (not mine). I remember using those bulky overhead projectors and using those black box TV's on a cart when we watched a movie, and I remember when my grade 8 teacher had a class website but it was the ugliest Web 1.o thing you've ever seen.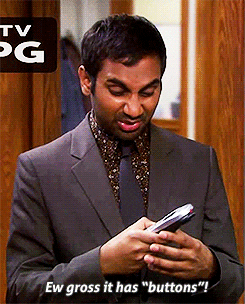 Nowadays, kids are forced into the tech life. They're supplied with iPads and sleek laptops in class from grade one onwards. Every classroom has a smartboard, and these kids are learning the basics of coding (seriously!) before they learn fractions. They play with drones and can work a green screen and can do so much more than even I know. And that's just how it is, I guess. They were born into this life of networks and screens, so of course they're adapting and thriving!
What surprises and interests me more, though, is how technology has shaped even teachers nowadays, and some of these educators were teaching even back when I was in elementary, so they've grown into it. As I said, teachers and schools and principals and superintendents all have Twitter accounts, and they're all active, sharing educational tips and articles and all that (my internship supervisor and I think it's board-mandated, but we're not sure). But what they're also doing is sharing their days and showcasing classwork. Some days I'll see around ten tweets from one teacher just showing pictures of art or projects done or what the kids did in class that day. They're usually not doing it in a braggy way, they're just documenting it and showing parents and other teachers what the kids learned and created, and I'll admit it's kind of cool to see their work. I think parents enjoy these updates, too.
But I've noticed that most of these pictures include the students in them. Sometimes they'll be posed, but sometimes they'll be candids, and that really fascinates me because that means the teachers must always have their phones out, ready to snap a picture, all day. And before you ask, the parents are probably aware of this going on. Sometimes I'll see those Twitter stickers over some kids' faces, meaning those kids don't have parental consent, and that is valid. I'll also see teachers not use the students' names and instead they'll tweet things like "B and K painted this picture today during art!" But are the kids okay with this? Do they enjoy this? Are they self-conscious about this? In my elementary days, pictures needed to be developed at a store, so I have no idea what it must be like to always have you/your work posted online by your teacher.
Even the other day in my university class, we were doing user testing sessions of a product prototype my group created and my prof actually was going around with his phone. I don't know if he was taking pictures or video or what he planned to do with it, but I do know that we didn't expect it, and I was a little surprised that in a class where we learned about proper user testing and proper interview protocol, he was doing this without informing us. In the long run, I didn't care too much and I know his camera was pointed at the prototypes and not us people, but it was interesting that this happened to me only a few days after I was wondering about these elementary kids.
And while it's been almost a decade since I was in elementary school and as I've just explained, a lot has changed, you can rest easy knowing that some aspects haven't changed at all. The other day I saw a tweet from a teacher showing a little structure a student made with K'nex, and I loved that because I remember building with K'nex in my basement (my brother, my friend, and I would build cars and race them) and I didn't know kids even knew what K'nex were. I also saw a tweet from a school account informing parents that Beyblades and Pokemon cards were in fact banned, and that amused me greatly because I loved both of those growing up (I still have all my Pokemon cards) and I remember when my elementary school tried banning them too. Kids today may have iPads and cell phones, but they are still kids and even classic toys like Beyblades are fun for them too.
Anyhoo, those are just some thoughts I've had regarding elementary school and technology. I don't really have an ending question for you, but if you have any thoughts on the matter, I'd love to hear them! Leave a comment!
That's all for now!
Follow me: Twitter / Facebook / Instagram / Bloglovin'