It has come to my attention that the sport of curling is extremely underappreciated. The Winter Olympics are in full swing and since its start this year I have talked to multiple people who all expressed something along the lines of Curling? Lame. No, you know what's lame? Sleeping on this amazing sport.
I played curling for many years growing up. My dad's side of the family is really into curling, so I started in grade three and played until grade seven or eight. In the neighboring city, there's a trophy with my name on it, the highlight of my career. I stopped playing for two reasons. One, I wasn't in love with the sport, and two, I got too old for the fun and organized kids program and the next level program was kind of a mess. But I still liked the sport, and when a team formed in my senior year of high school, I jumped at the chance to join. Anyway, if you couldn't tell, I'm Canadian. But the sport isn't unique to Canada; we're just good at it. It actually originated in Scotland.
Though you don't need to have a history or location like mine to enjoy the sport too. Sure, it helps a little (my roommate from Saudi Arabia was very surprised to learn that they don't play on skates), but curling is one of the few Olympic sports that's very easy to understand just from watching.
First of all, the concept is simple: get as many of your team's rocks as close to the center of the target as possible by throwing them down the ice. That's it. Unlike figure skating or skiing, there's no need for judges or complicated scoring systems because what you see is what you get. The sweeping reduces friction to help the rock move and the iconic yelling to the sweepers of "HARD! HARD! YUP! WOAH! OFF! YUP! YUP" is for dramatics, really. The sport is called curling because the rocks spin and curl along the ice as they travel, and controlling that is the key to making good shots. There are four players per team and they all shoot two rocks, taking turns. Of course, there are several other little rules and terms, but you don't need them to enjoy watching, and if you're ever curious, Google is there for you.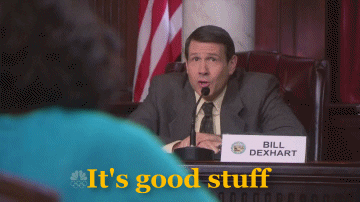 The great thing about watching curling is that it allows for thinking. You're not mindless watching, you're thinking and critiquing and evaluating. When watching luge or skeleton, all you're doing is watching them slide. You as a viewer can't really discern skill or tactics. And in sports like hockey or slalom skiing, the sport usually goes too fast to really think about what could have or should have happened. And in sports like figure skating, often it can be hard to tell what's good from what's great. So many times I'll say "oh, that routine was great, they got top three for sure" to then have the skater get in sixth or something. But curling? Curling is slow enough for you to look at the moves and the players' skills and decide what's a good call and what's a doable shot as the players decide too. And though it's slow enough to do this, the game does move quickly and rarely drags on, making it a perfect mix of excitement. This is why it's one of the best sports to watch.
Plus, it's cool! (And that is not an ice joke!). Seeing these players with incredible accuracy make these incredible shots is so amazing. They make it look so easy and effortless and majestic, but let me tell you as someone who's played, the players in the Olympics, like in any sport, are ridiculously talented. Sometimes the house (the target) will be so cluttered and congested, and then in comes one rock to perfectly clean out one colour with the most jaw-dropping of angles.
If you haven't watched a curling match this Olympics, be sure to catch one before it ends because it really is a unique and interesting sport, and it definitely needs more love.
And if you can, consider trying the sport for real! There are curling clubs all over, so look one up if you're looking for a new hobby. Here are a few reasons why curling is a great sport to play:
It's great for all ages. As I said, I started at age seven or eight and my grandparents played it well into their eighties.
It's not too hard at all. Throwing and sliding takes a bit of practice, but it's fairly easy to pick up.
It's fun!
You can play even in a wheelchair or without bending down by using a tool to push the rock, similar to shuffleboard.
You don't need to be in peak physical condition. Sure, the professionals do some gym training, but it's not necessary for casual play.
The sound of the rocks hitting each other is really nice. I don't know why I love it so much.
It's really fun to do the yelling.
I hope I've managed to convince all you haters that curling rocks (pun intended) and to give it a try, at least on TV, and I hope that if you didn't know anything about the sport, you now know a little. The sport is now an Olympic staple, and the addition of Mixed Doubles in these 2018 Games prove that this sport is adapting and gaining popularity for sure. Get with it.
Follow me: Twitter / Facebook / Instagram / Bloglovin'