No, Gayle is not my mother….though there are moments where there is a resemblance.
A year or two ago, I came across this video online in which a young man was pretending to be a middle-aged mom frantically cleaning the house before guests came over. It was funny because a lot of what he did and said reminded me of my own mother who also goes a little unnecessarily crazy before people come by.
What I didn't know until recently was that this video is part of a larger webseries called Gayle. Chris Fleming, a comedian, plays a middle aged suburban stay-at-home mom, named Gayle Waters-Waters, desperate to have order in her family and neighborhood. She's quirky and aggressive and relentless and overall not a great mother, and it's hilarious.
The series began in 2012, and it's 40 episodes long (though episode 18 has two parts) and went until 2015. The last video says that more episodes are coming "at some point" so there's hope we'll see Gayle again, which is great because I'm really upset that I missed out on this when it was happening.
Here's why you need to watch Gayle if you haven't already. For one, it's a perfect representation of all the mom cliches and jokes.  My mom isn't nearly as crazy or intense as Gayle, but there were so many moments where Gayle did or said something my mother has, and I'm sure you'll feel the same, but you'll also be glad your mother is often not like Gayle because Gayle is just the ultimate mom. Secondly, it's so unique. Even the zaniest of moms on family sitcoms can't match the unadulterated wildness and weirdness of Gayle, who is so authentic and yet inauthentic at the same time. She lives in her own world, and it's a trip. The webseries is filmed so there are regular scenes of Gayle interacting with her family and whatnot and then there are scenes of Gayle powerwalking and talking right to the camera, which is so brilliant and funny and in character. Thirdly, Gayle's dialogue is so funny. She goes on these rants and tangents and her way of describing and comparing things is so unusual and amusing. It's something I've never seen in a character or comedian, so I have to commend Chris Fleming for that. And lastly, the supporting characters are so funny too. There's Bonnie the frenemy, Terry the exasperated daughter, Dave the spineless and faceless husband, and so many others who just add to the whole environment of suburbia and play so well off Gayle's antics.
Don't be intimidated by the 40 episodes either. Most of the episodes are between 5 and 15 minutes, so they're easy to consume. I got into a habit of watching them while I ate meals because they were just the right length. The downside of what I did was that laughing while eating led to two instances of almost choking. Gayle is worth it. Yolo.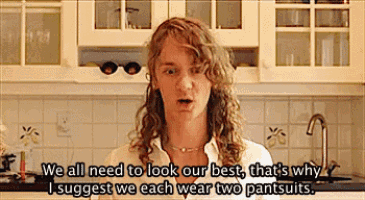 The one thing I have to admit that I didn't love about the websites is that sometimes it went a little over the top. Gayle sometimes took things too far so the show was more weird than funny, or the weird parts dragged on a little too long. But overall, it wasn't too bad, and if anything, the over the top unrealistic parts only highlighted just how ridiculous and interesting Gayle Waters-Waters can be.
If you're looking for something light and utterly hilarious to watch, I definitely recommend Gayle. Aside from some swear words and the odd sexual reference, the show is pretty safe. All the episodes are on YouTube, which I've linked right below, so you have no excuse for not giving this a try. At least watch a few episodes.
And if you've seen all that and are still looking for some more hilarity, Chris Fleming has some other comedic rants on his YouTube channel that I find amusing, like this one about theater kids. I know he also tours around sometimes, so if he ever comes to a stop near me, I'll definitely have to try for tickets.
Gayle very much amused me and if you haven't yet let this headstrong lady into your life, you're missing out on something brilliant.
Follow me: Twitter / Facebook / Instagram / Bloglovin'