I wrote the majority of this post a few weeks ago, knowing my one-year anniversary was coming up for my first real adult full-time job. Two days after the milestone, I was laid off. That sucked. I was told they were restructuring the department, outsourcing my job, and then they packed up my office for me.
The job wasn't all sunshine and roses, but I was committed to stick it out for a couple years. Adjusting to it took time, just like I know adjusting to what's next is going to be. Despite how angry and disappointed I am to so suddenly be out of work, the lessons I learned are still true and valuable. That job was the longest I've done something consecutively, and I am proud of myself. For 22 years, all I had known was school, and then my priorities and life had to shift. So I wanted to make this post to highlight some things I learned in the year. Hopefully it can help people about to graduate and move into their own full-time adult jobs, even just to understand what it's like.
For those who didn't know (which is probably a lot of you since I didn't talk about work that often here), I worked in marketing. I won't say what the company I worked for did, but it was B2B and not a thrilling industry by any means. The marketing department was small, and my job was to write a lot (emails, landing pages, social posts, blogs, website updates….) and I liked that because I went to school for communications and I do genuinely like to write/create, even if my creative freedom was obviously limited. I told anyone who asked that I learned so much at work, and it's stuff that school could never teach me. Now I'd like to share a bit of it.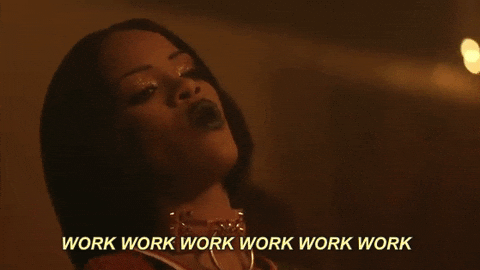 Not all offices are like The Office. There were days where work seemed similar to The Office, like we'd have a meeting talking about branch goals or something that kind of reminded me of The Office, but that's about where the similarities end. I wished the office was more like The Office though. They seemed to have good times over there in Dunder Mifflin.
Dress codes are dumb. I sat at a desk by myself all day. I didn't interact with customers. Some days I didn't even stand up (which is bad, I know. I did make an effort to stand up and move more). So who cares if I wore fancy black shoes or purple running shoes? (Related: this post on my personal style and how clothes shouldn't matter as much)
I am convinced lunch hours go by a lot faster than other hours.
I loved meetings. I just had to sit there, listen, learn, occasionally say something, and it counted as productivity! I had a coworker who would sometimes say after a conference call "Okay, we didn't need a half hour phone call for that," and I'd be like "We sure didn't! It was great!" #WasteMyTime2k19
Dilbert comics make a lot more sense.


I don't miss school per se, but I miss aspects. I miss being able to lounge around at 1 in the afternoon because my class wasn't until 3. I miss sleeping in and staying up late. I miss doing a few hours of homework and considering it a good day's work. I don't miss lectures and boring papers.
School really didn't teach me much. I learned so much more in the real world. Every company approaches communications, social media, and lead generation differently. The generic concepts from school may have given me a starting point, but I forget most of it. So don't stress about not knowing and applying everything. It sucks that it cost so much to happen, but it gets you in the door for jobs. And if you're debating going on to grad school, consider if it's really needed. For the communications/marketing field, I personally don't think it is.
I had two large computer screens and it made any multi-tabbed project SO MUCH easier. How the heck did I survive all my essays and projects in school with only my single-screened small laptop?
It can be hard to figure out when to speak up and voice an opinion. Sometimes it's best to just shut up and do what you disagree with because no one's really asking for your thoughts. Just do the job.

Loverboy was right. Everybody really is working for the weekend.
I would've actually died if I hadn't been allowed to listen to music while I worked. It was so quiet in the office, and I dislike the silence like that, so I always had the radio going. You can't always control the volume of your surroundings the way you usually can doing homework at home, so I did have to learn what kind of noise I liked and what helps me work.
Just because coworkers are grown adults who've been with a company for years, it doesn't mean they're brilliant. Especially when it comes to technology.
If you have questions, even 'dumb' ones, ask them sooner rather than later. Otherwise you end up like me, who genuinely did not know my own office phone number, and even up until the end was too afraid to ask.
Have snacks on hand always.

I'll always be very grateful that I found a job in my field only a few months out of school and so close to home. I may have been counting down to 5'oclock every day, but that's life. The above lessons will prove valuable throughout my career, no matter where I go or what I do now.
I hope the things I learned amused you or help you! To anyone who has workplace lessons to share too, leave a comment!
Wish me luck on the new job hunt.
Follow me: Twitter / Facebook / Instagram / Bloglovin' / Goodreads