Next summer I'll have graduated and, with any luck, be entering the workforce. While I am kind of excited to do that and evolve into a Real Adult, I am scared – no, terrified – to deal with everything else that comes with this. I am brutally, b r u t a l l y unprepared for life, as this summer has rudely hinted to me, no matter how well I can pretend to adult.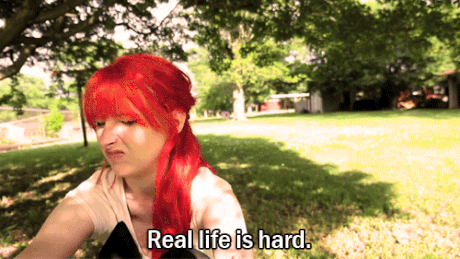 I started off the summer helping with my grandparent's estate. I heard my parents and my aunts discuss lawyers, inheritances, taxes, mortgages, and so much more. All those things are things that have ZERO knowledge on. It's kind of scary to think that if my parents were to die early or something, my brother and I would have to muddle though that on our own.
Recently, my family also sat down with a banker to discuss a few saving accounts. The banker asked my father a bunch of questions about account types and RESP's and investments and a bunch of other finance questions that went waaaaaay over my head. I understand money basics like interest and…well, just interest. In high school, my best friend, who struggled with math, took a more basic math class just to get the credit, and while I was learning about parabolas and airplane trajectories, she was learning how to balance a cheque book and how to budget and a bunch more great life skills. And that's good for her and all, but here I am, having passed the advanced math classes, with no useful knowledge.
And this summer at work, my coworker was in the process of buying a house with her boyfriend, so she told me a lot about dealing with the real-estate agent and going to design meetings and all that fun stuff that I've also never had to deal with as all I've done is rent a room for a few months while at school.
I've also never had to deal with cars or insurance or anything of that sort, and I know I'm lucky in some senses, but these are all things I know one day I'll have to deal with, and I won't know where to start. I'm a year away from being done with school so I know I won't be learning anything there, and it's not stuff that I'm eager to sit down and learn about in my free time, so….yikes.
I'm grateful to have a father who will happily help me understand cars or whatnot, but I can't rely on him for the rest of my life, right? I always wonder about people who aren't as close to their families and how they learn about life. And honestly, young adults shouldn't have to rely on their parents like that. We should be taught this stuff in school. Frankly, society has failed us bigtime.
There should be a class. Like every Sunday night for three months people who want to learn about Real Life Things can get together at a library or something and learn about taxes and lawyers and the stock market from someone who knows what they're talking about. I'd attend something like that.
I guess my feelings on all this can best be described with this lyric:
I don't know what I'm doing but come in and ruin me – 'I Could Be In Love With Someone Like You' from The Last Five Years
That's all for now!
Follow me: Twitter / Facebook / Instagram / Bloglovin'