It seems like I wake up every day to some more disheartening news. Mass shootings, sexual harassment, Trump's existence… I am tired of it, y'all. It seems like nothing in the world is going right.
How did it come to this? How is humanity as a whole so messed up? How did it get so bad?
No one is safe. Nothing is safe. You can't avoid the news or the commentary or the outcomes. You just have to deal with it all and try to learn from it and hope that we can move on, but we can't. There'll be another mass shooting, another sexual predator, another tragedy, and the cycle of disappointment starts all over again.
I usually try to stay away from the negatives and keep out of the discussions, but news of Harvey Weinstein's creepy and disgusting behavior has completely consumed my social media feeds and it's just so scary. It's so scary that there are a) people in this world that think what he did is normal or okay, b) people in this world who allowed it to happen for decades, and c) people in this world who have to deal with creeps like that. All of the sudden, people of all ages and sizes and genders are speaking out about their sexual harassment experiences and it's so sad. If people with power are experiencing it, how are the rest of us supposed to deal when we can't afford lawyers or have legions of fan support? It's heartbreaking.
This whole event is really shining a light on sexual harassment, which is good, but as I said, nothing is safe. People are calling for the upcoming Justice League movie to fail because old footage of stars Ben Affleck and Jason Momoa being rude and sexist has surfaced. I was looking forward to that movie. As twisted as it may sound right now, the entertainment industry is my escape from the world's issues…even if a lot of shows and movies now slide in subtle political commentary…
I feel like the whole entertainment industry is being shaken up, but in the end, very little will change. While Weinstein may have gotten fired, people like Casey Affleck and even Donald Trump still have jobs, and I suspect Ben Affleck and Jason Momoa will too.
And while I'd love to say that in twenty or thirty years when all the creepy old men are retired or dead and the next generation is in charge that things will be better, I don't think it will be. Kids these days are wild. Have you seen a 12-year-old on the Internet recently? They're rude and sexist and inappropriate. My generation is only slightly better. That's not to say that everyone is doomed, but I'm not too optimistic. Just saying.
The thing is, there's no quick fix. I try educating my male friends on feminism and all that jazz, but who's to say they understand it? Who's to say they'll stop making rude jokes? And how is that going to change the world? How is that going to help women in America? How is that going to help people of colour in America? Or people in the rest of the world? People better than me have for years tried to educate the world and make a change and yet here we are, as the world burns and drowns around us and politicians are more concerned with kneeling at a sporting event. We'll never be free.
I don't know what else to do or say.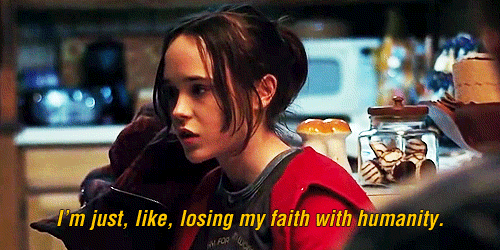 And why am I writing this? So far, I haven't been personally affected. It feels silly of me to sit here and complain about this and how disheartening it is when I'm up in Canada enjoying healthcare and gun laws and a sane leader. I'm sorry if I sound pretentious right now.
If everyone could just, like, be a civil, normal, kind human being, that'd be really great. Thanks.
Follow me: Twitter / Facebook / Instagram / Bloglovin'