I've always kind of held Netflix to a high standard when it comes to TV show/movie quality. Of course, it's not just Netflix. I hold other streaming services like Amazon Prime and Crave to the same standard. The problem is that I feel like my standards are not being met in general. This post is going to mention Netflix the most because a) I use it, b) it's the most popular, and c) it was one of the first mainstream streaming services so it largely paved the way. I also want to disclaim that this is about the original content produced only.
Recently, a friend and I both watched a Netflix show, and I disliked it so much that I ranted a bit about how disappointed I was in Netflix, which prompted this question from my friend: why do I have these standards? I've touched on this topic before, but I wanted to expand on it and see what y'all think. I'm so serious about this topic, I'm about to use subheaders. I rarely use subheaders in posts.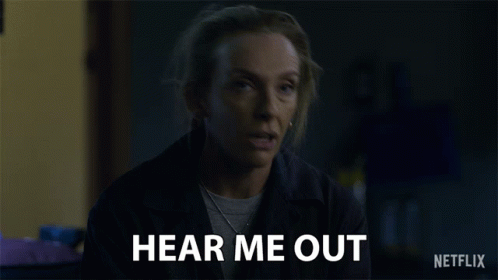 No advertisers
In my mind, since streaming services don't have to appeal and cater to advertisers the way networks heavily do, they should be able to be more creative and bold with their content. I'm not saying I want edgier jokes or more gratuitous sex, I just want them to be able to really hone in on what the viewers want without worrying as much (or even at all?) about money and reputation and politics and content ratings.
Their own timeline
And since streaming services don't need to follow the typical yearly setup of fall premieres in September and midseason finales in December and summer shows in May, they should have the time to ensure their content is as good as it can be. And yet, I'm just not finding that it is. Forced acting beyond pilots, bad jokes, weak plots…the only thing I haven't noticed as being too bad have been special effects.
Specific stats
Furthermore, these platforms have their own active viewing stats. They are able to see what people actively like, what genres are actively being consumed, and then should cater more to that. Are people watching period pieces? Great. Make some really good period pieces, then. Impress the people who have a taste for that and are actively watching that on your platform. See, network TV has to use Nielsen ratings, and it's not a perfect system, because they only use a sample population to represent the whole country and can't accurately account for things like online streaming or viewing from an app. Though Nielsen has been able to track some Netflix shows and shows on other platforms, they don't have access to it all. But that's not the point; the point is that these platforms have more access to stats and viewing habits than networks seem to, yet they don't necessarily act like it except when they want to make funny tweets.
Concerning cancellations
I also expect them to treat customers better. These are literal paying customers paying specifically for your content, and yet I find that Netflix especially cancels shows that are fan favourites. There's apparently a slew of legal and financial reasons behind some of the decisions, and I do understand that Netflix is a business, but when so many shows are left without closure and can't be picked up by other networks/platforms, it's rude and weird. If they want to keep shows under four seasons because it's cheaper for them, then that's fine. Make that clear to the showrunners and viewers. Force them to wrap up their stories. Fans want that. Fans don't want to keep watching unfinished business.
The non-original content
As I said, everything above was about the original content, but it's relevant to consider the non-original stuff too in the larger discussion. These streaming services started as a place to house old, off the air shows/movies for fans to binge without buying DVDs. Only now network shows are being split up between a bunch of different services, and even then, it's not a worldwide thing. I'd love to know if Netflix and the like are taking money they could have used to get streaming rights and instead using it to create original content. Are streaming services destined to end up looking like Apple's where it's only original content? It's something to consider as I'm sure there a lot of people who use streaming services primarily to watch network content and theatrical movies.
I realize that perhaps I'm being too unfair to these services. It's impossible for everything they make to be perfect. I realize that there's a chance that I'm too quick to speak on negatives, and it's likely because I'm a little annoyed at the streaming-centric world that we're now living in and the fact that these streaming shows clean up at the Emmys now. There is almost definitely a degree of pettiness at play here, but also, everything I've outlined here isn't incorrect.
So tell me, am I wrong to have these standards? Or am I right but just shouldn't say it? I've watched and enjoyed a lot of streaming shows on a variety of platforms, so I know there is good stuff out there and I look forward to watching more, but this is just about the general quality. Personally, I think the regular network shows I watch on cable are better in a lot of ways to streaming service shows. But who knows; maybe they have triple the budgets.
I'd love to know what you think.
That's all for now!
Follow me: Twitter / Facebook / Instagram / Bloglovin' / Goodreads