When people talk about their dreams and life goals, it's always in a forever kind of sense. "I've always dreamt of living in Paris since I was a child!" "I've wanted to play in NHL since I first learned to skate!" There's this underlying messaging of the dreams we have as kids being the dreams we always have and yearn for. And I'm sure you've heard someone tell you that we should never, ever give up on our dreams.
But dreams change. I wanted to be a singer when I was a kid, and now I only sing in the car and sometimes the shower. I'm not mad about this. I would have hated that life.
We don't talk about changing dreams enough. It's okay to let go of a goal. It's okay to have new dreams. This shouldn't be seen as settling or giving up. It should be applauded.
I think about my goals even from a few years ago. I have posts on this blog talking about how a dream job would be to work behind the scenes for a TV show or somewhere in the entertainment industry. But it was wildly unrealistic. I have no experience, no connections, and I live in Canada, where the industry is small and competitive. While, sure, I still think it'd be a fun job, I've let go of that dream.
I'm content producing content in other ways (ha!).
But aside from that dream being unrealistic, it doesn't fit me anymore. All the things I like doing now are not things that would have been possible if CBC had plucked me out of school and given me a job. I wouldn't be able to curl three times a week. I wouldn't be able to play online games with my friends every night. I wouldn't be able to stay home and save money.
Instead, I have a job that doesn't suck, and now I can dream about a life where I have hobbies and friends and flexibility.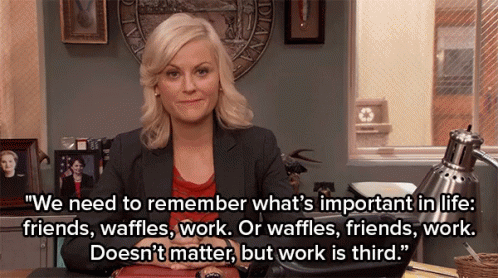 At work a few months ago, there was a meeting ice breaker question of "what is your dream house?" and my answer was "affordable!" It's sad that an affordable house is my dream, but here in Ontario, that's the reality I live in, and I think it's fine to have smaller, more realistic dreams. Honestly, some of the other answers, like a house on the beach sounds wet and stressful, and I don't want to clean a huge mansion. A smaller, affordable house is genuinely fine for me.
There's been a societal change in people just yearning for a simple life. Yeah, having loads of money and exciting adventures would be very nice, but people just want to be stress-free and happy, and sometimes that comes from a simple 9-5 and hobbies that aren't a hustle. I think I'm in that boat. Or at least way more than I was five/six years ago. And that's fine. That's my point of this whole post: I don't think that adopting new values and dreams is at all a bad thing.
Have your dreams changed ever?
Follow me: Twitter / Facebook / Instagram / Bloglovin'