I recently attended a reunion for my elementary school graduating class. It's been about nine and a half years since we graduated from our small elementary school, and a lot of us parted ways in high school. So I was very surprised to see that over Facebook, one girl invited most of the 32 of us, as well as a few others who left the school before grade 8, to her house for a reunion.
At first I didn't want to go. I mean, there's a reason I don't talk to most of them anymore. We aren't friends. Never were. I do still talk to three people from elementary school, but those friendships were formed before/after those years anyway. Plus, like, the point of a reunion is to go flex a little, right? Show 'em how great you're doing. And what news did I have to share? Nothing. I'm currently unemployed, live with my parents, and have less friends than I did back then.
But two of the three people I am in contact with decided they were going to go to the reunion, so I agreed to as well, as long as they promised to not let me get trapped in a weird conversation. I thought the whole thing would be weird and awkward and we'd leave after half an hour, but it was actually a lot more fun than I anticipated!
There were only five people there when we arrived and about four more came later, so it was a small event. It would have been nice to see more, but I do think the smaller group was less overwhelming. We chatted and drank and reminisced, and it was alright. It was familiar, in a sweet way. These people used to be essentially my whole world, in a sense. And now, my world has expanded, but no matter what we grow to do or where we go, we all came from the same small school in the same small town, and it's an experience that only we can share in.
I was also worried that the whole thing would be awkward because it's not only that I wasn't very close to these people ten years ago, but I actively didn't like a few of them. And maybe it's because we all matured or I was just too drunk to care, but it wasn't weird at all, because nothing mattered now. It was so nice to just interact with people and not worry about the quality/value of your interactions because it was a one-time thing for catching up and then we'd go our separate ways. Maybe we'll reunite again, but also maybe not.
Overall, I had a good time and I'm glad I went. If there's ever a proper high school reunion in the future, I think I'd probably go to that too. In fact, a month ago, I ended up unexpectedly hanging out with two people I was friends with in high school, and it was nice.
If you've been invited to a reunion and are on the fence about going, I suggest you do it. It could be fun. I'm someone who usually doesn't like interacting with people who don't clearly want to interact with me (a tactic that often leads to me sitting alone at parties, 10 out of 10 would not recommend), but this reunion taught me that just because you haven't seen someone in ten years or five years or even one year, it doesn't mean you can't have a nice evening together just because.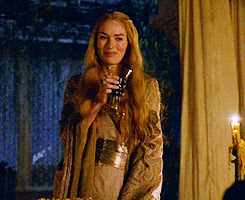 Follow me: Twitter / Facebook / Instagram / Bloglovin' / Goodreads