If you follow me on Twitter, you've probably seen me talk about the show God Friended Me a lot. And here I am with a whole blog post about it. I can't stop raving about this show, you guys.
If you don't know what this show is, it's a new CBS show about a young podcasting atheist named Miles who gets a Facebook friend and many friend suggestions from an account called God. He soon figures out that he's meant to help these random friend suggestions in some way, so while he is curious as to who this God is and how these people are all connected and why he, an atheist, is the one this God is calling upon, he does enjoy helping people. He does so with the assistance of Rakesh, his coworker and best friend, and Cara, a journalist and new friend. They're all such likable characters.
And I know that if you've never heard of this show and you're reading this post, you may think that I'm some bible thumper, pushing some religious propaganda TV show on you, but I assure you, I am not. In fact, though I was raised Catholic, I had actually decided to stop going to church about two weeks before this show aired, so this really shouldn't be a show I take to while I'm rethinking the place that religion/Catholicism has in my life. My point is that even if you don't believe in God or call God by another name, this show is still worth watching for reasons I shall now explain.
God Friended Me is an incredibly light, pure show. Every single episode has themes of humanity, hope, and happiness, so it's such a feel-good show. Every Sunday or Monday night I watched it, it left me feeling calm and happy and so satisfied. I cannot recommend it enough if you need something light (both in terms of style and literal lighting) to counteract the Game Of Thrones or American Horror Story or whatever other dark things you watch. This show also has elements of mystery, romance, comedy, and drama, all mixed to create this fun, enjoyable show unlike anything else on TV.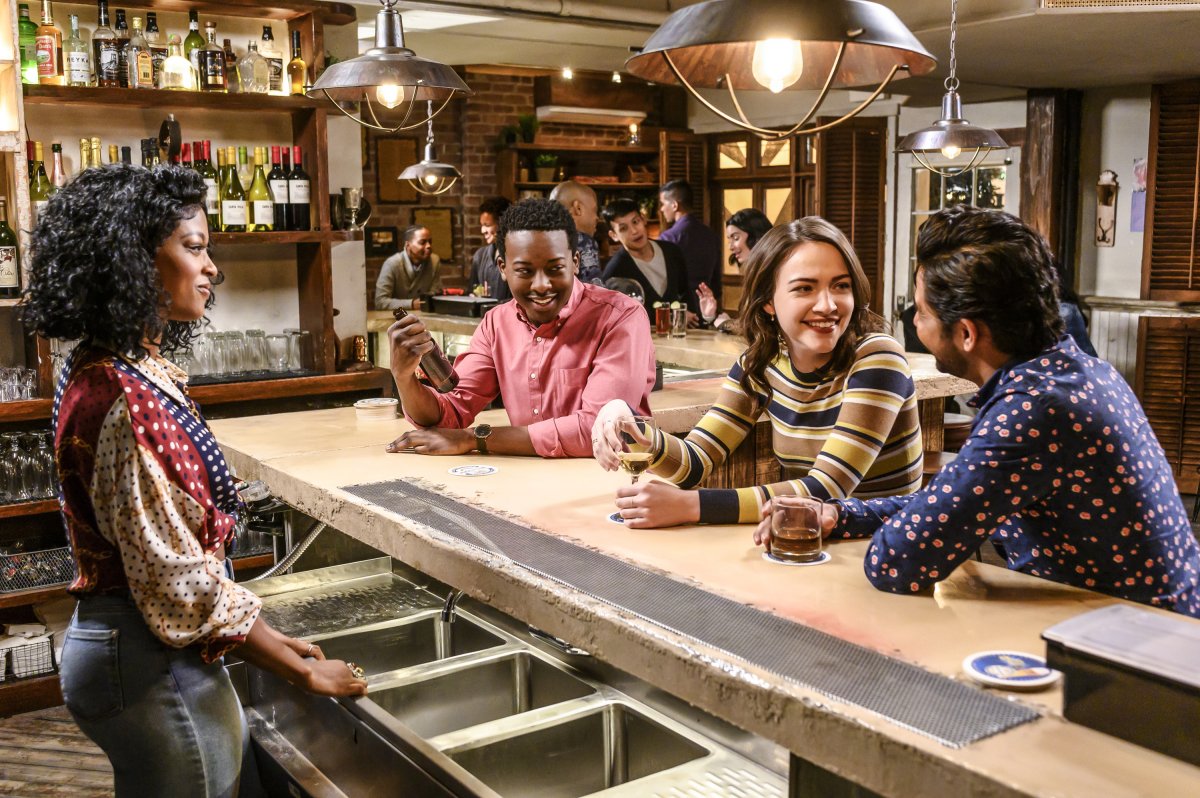 In terms of the religious aspect, I think the show does a fabulous job about not being preachy or pushy. Miles is an atheist, but his father is a pastor, and while that does lead to some tension among the characters, the show does not push one side on you, the viewer. Both sides have their legitimate reasons, and I think it is neat to have a show that portrays religious people as normal but also able to see flaws within their system (eg. the gay marriage issue). The show doesn't use religion to justify behavior. Though I think it would be cool to see more of other religions too. Maybe this Facebook God is a Jewish one. Or a Hindu one.
Of course, this is not to say that God Friended Me is perfect. No, there are some small aspects of it that I don't love. For one, though Miles and Rakesh live in New York, they both don't seem to work that much. Miles will straight up walk out of work every time he gets a new friend suggestion. At least when Cara tags along, she can pass it off as finding a story. Another issue is that there have been a few times when Miles offers to watch the kid of the person he is trying to help, and they take him up on that offer. Like, I know they're usually desperate, but you're just going to let this random man you just met a solid two minutes ago have control of your child? What sane parent would agree to that? And a last issue is that there have been several Broadway stars guest starring on the show and there has been zero singing yet, which is a big missed opportunity.
This show isn't one that can run for a decade, but I can see it lasting several great years. Its first season just ended a few days ago (with a fun cliffhanger!), and it's been renewed for a second. I can't wait to see Miles, Cara, and Rakesh continue to help more people and make NYC a better place. I don't even care if the God account mystery ever gets solved; I just love these characters and watching this original, pure show every week.
So, yeah, I highly recommend it. It was an unexpected surprisingly great show—definitely the best of the new seasons—that I'm so glad I started, and I know you'll enjoy it too. You've got all summer to catch up, so get to it and get on this train of adoration! Amen.
Follow me: Twitter / Facebook / Instagram / Bloglovin' / Goodreads