It's been a while since I've had a good ranty post, I think. Buckle up.
For those who may not know, Redbubble is a website where people upload art and others can buy that art on products like shirts, bags, pillows, laptop cases, a so much more. This service is called Print On Demand because the items are only made and shipped by Redbubble when they're ordered, so it's not up to the artist to manage stock. Society6 and TeePublic are similar sites, as is TeeSpring, but TeeSpring doesn't have a public-facing marketplace anymore like the others do.
The sites take a huge cut, but there are a lot of artists who still make good money selling their designs. Especially because these sites are popular for fanart. If you like Lord Of The Rings, for example, you can easily search for that and find hundreds of designs. And this is where I come in. I've mentioned it a few times on my blog before, but last June, a friend and I started running a virtual quidditch game of sorts for friends. It's been so fun and our friends love it. Recently, someone suggested we make merch. My very talented friend made amazing team logos just for fun and did a bunch of art for game assets, and people have been playing as these teams for over a year now. So we looked into it, uploaded all the images, and now we have merch! I'm wearing a sweater right now and I adore it.
This is all context though. Here's the real problem and the reason for this post: our merch is on three different sites because things kept getting taken down from them. Because the team logos and assets are related to Harry Potter and quidditch, they're getting flagged right away. And that's understandable. I do understand the basics of copyright laws. But I also understand the rules of parody! All our logos and names are jokes. They're mostly dumb puns that serve as a mildly threatening team name (Ravenclobber, Dumblescore, Knight Busters, Ministry Of Savage…). The art is all original, and nothing is trying to seem like real Harry Potter merch. On the basis of parody, almost all of it should all be fine.
But what angers me even more is that our stuff is getting taken down, but if you search 'Harry Potter' on these sites, you'll find hundreds of designs that are blatantly there. Direct quotes, pictures of characters, and clear imagery that is in no way a parody the way our stuff very much is. How is that allowed up still? If all Harry Potter art was being taken down, then fine, we'd accept the ruling. But it seems to be a genuine coin toss as to if you slip it through or not. And submitting an appeal isn't helping either, because we tried, and basically got "sucks to suck" in reply.
We made the merch for fun, so our takedowns aren't the end of the world, but I feel bad for the people who are trying to make a living off of their art. Knowing that you may get the short end of the stick for no good reason sucks and is so angering when you can't do anything about it. I saw one girl on YouTube say her popular art got taken down eight months after she uploaded it and sold stuff, and it wasn't even Harry Potter merch, so this is happening in probably all fandoms. Redbubble has a partner program where they allow certain fanart, but it's limited. Harry Potter is not on the list, but as I said, there is no shortage of very clearly Harry Potter art on their site. It's frustrating.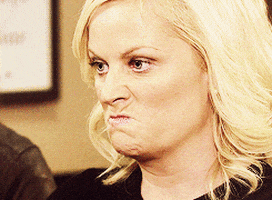 To Redbubble and other print on demand sites, you suck and need to do better to ensure that all artists are treated fairly. Get better bots or hire people to manually do it, because it's honestly annoying to know that honest people are at the whim of such loose and inconsistent rules.
And to everyone else reading this, if you're looking for some fun Harry Potter adjacent parody merch, check out what we've got on TeeSpring, Redbubble, and TeePublic. No pressure, but I love all the art my friend made, and you may too.
Rant over. That's all for now.
Follow me: Twitter / Facebook / Instagram / Bloglovin'