Since you're reading this, I am no longer unemployed! I started my new job officially at the start of January. And that means that I can now share this post that I'd been working on for a while. I love TV shows, and I really jumped into a wide variety of them during my unemployment stint. Obviously, I have thoughts and recommendations, so here we go!
And as a disclaimer, this lengthy post makes it seem like I did nothing with my time but binge TV, but that's not at all true. I watched almost all of these at double speed, and almost all of these shows have short seasons (8-12 episodes), so each season took me less than a day.
---
Schitt's Creek (seasons 1-5)
It's a Canadian show about a rich family that loses all their money and has to move to a small, nowhere town called Schitt's Creek. I binged the first five seasons and then watched its sixth and final season in real-time, and this was the one show I really regretted not starting sooner, but I'm making up for it by telling everyone I know to watch it. It's so funny and heartfelt, and you really root for this family as you see them grow into better people and make friends with the townspeople. Go watch ASAP.

The Chilling Adventures Of Sabrina (seasons 1-4)
I was bracing myself for Riverdale garbage, but this was decent. Sabrina is a teenage witch forced to deal with evil witchy business she was born into and a desire to be a normal teenage human. I liked the characters, and Sabrina's habit of calling out her coven's questionable rituals and stuff in the first two seasons was relatable to me as someone questioning the Catholic Church. As the show went on, it all got sillier and the writing and development went downhill (though nowhere near Riverdale levels of bad), but despite the eye-rolling aspects of the show, but I didn't hate it at all.
The Boys (season 1)
Amazon's big summer hit about superheroes that have been commercialized and corrupted was good and a fresh take on the superhero genre, but I didn't love it. 8 episodes was doable, but by the end of the first season, not much was resolved. If you can handle gore and want some more superhero content in your life, then give it a go, but it's not revolutionary. I also watched season 2 when it came out but it was released weekly so I didn't binge it.
Swamp Thing (season 1)
RIP to this show that was cancelled before it really ever began. It really is a shame because this DC show really wasn't that bad. Scientist Abby returns to her hometown to deal with some concerning environmental issues that lead to the creation of a swamp monster. I thought the plot was interesting, but it wasn't as much a superhero show as it was a supervictim show. I found Abby's desperation to find the dude she talked to for one day kind of weird, and due to the show's production complications, the ending was sudden and unsatisfying, so I wouldn't say it was worth a watch, but I don't regret it.
Carnival Row (season 1)
In a world where humans and fairies and goat-men and a handful of other creatures exist, there's still racism! If you want to see that, as well as the breasts of almost every female character, then this Amazon show is the one for you! The plot was unique, but the worldbuilding was poor and I just did not care for any of the relationships or characters. It's cool that there are fantasy shows on the rise and the CGI in this one was good, but I was not impressed with this show.

Barry (seasons 1-2)
This show was getting a lot of praise online, so I gave it a go. I was a bit disappointed, though. It's about a hitman who heads to LA for a job but ends up falling in love with acting and is torn between these two very different career paths. The plot is unique and I think Bill Hader plays the role well, but I just didn't find it very funny and I never really liked any of the characters. I'll have to decide if I want to keep going with season 3 when it's out.
Red Oaks (seasons 1-3)
This show aired on Amazon from 2014-17 but was really under the radar. So much so that I had never heard of it when it was recommended to me. About a handful of employees/patrons of a summer country club in the 80's, this is a feel-good light show. It wasn't laugh-out-loud funny, but it was fun to see the characters come together at the club.
Succession (seasons 1-2)
I caught up with this show halfway through season 2. It's an HBO show about a family who owns a Disney-like company and the adult children vying to take it over from their aging father. The drama is interesting in a Kardashian kind of way where you kind of dislike every character because they're so unrelatable and desperate, but it's still wild and entertaining to watch. Not a favourite show of mine, but it's well made and I'll keep up with it.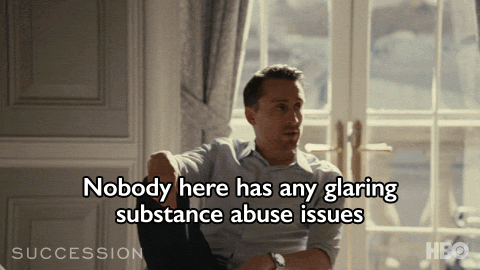 Dickinson (season 1)
This was one of Apple TV's headlining shows. It's about Emily Dickinson as a young woman trying to become a poet and not marry a man. It's set in the 1800's when Dickinson was alive, so there's old-timey dresses and standards, but it has modern dialogue and music, and I found the contrast very fun. Hailee Steinfeld was a good lead. I'd recommend this show. Season 2 started this month and is being released weekly.
Modern Love (season 1)
I didn't technically binge this show because I watched it with my mom over two weeks, but still. Each of the 8 episodes told a story of a different relationship in New York City, so it was easy to watch and fresh. There were happy stories, sad stories, awkward stories…every episode was different, and I can see this show lasting several seasons. Plus it's led by John Carney, so need I say more?
Dirk Gently's Holistic Detective Agency (season 1)
Some friends recommended this to me and mentioned it was a little weird, but it was too weird and silly for me, so I stopped after forcing my way through season 1. It's about a seemingly normal guy named Todd who gets roped into joining a quirky guy named Dirk as they investigate Todd's connection to the CIA. Gonna be honest, the plot was kind of messy and I was just not into it. I regret wasting a day on this. I do not recommend.
The Politician (season 1 and 2)
I watched this show for the cast. Ben Platt, Gwenyth Paltrow, Zoey Deutch, Laura Dreyfuss, Lucy Boynton…like, yeah, okay, sold. In S1, Ben's character Payton is a high school senior determined to win class president, but he and the other students involved act like they're running for the real American presidency, which was both interesting and annoying because it was wild to see them talk about undecided voter stats in a hallway with complete seriousness but their dialogue was just so…unrealistic for teenagers. In S2, he runs for governor of NYC with the same passion. It's a decent show and it has legs for a couple seasons, even if it is Ryan Murphy quirky.
Queer Eye (Season 5 and We're In Japan)
Like all the Queer Eye seasons, this was full of heart and style and happiness, which was great to watch. No complaints. As for the Japan version, because of the language and cultural differences, the Fab Five had to change up how they did things a bit/get extra help, and it kind of took away from the format, so I didn't love this season as much as regular ones, but it was still great.
Runaways (season 3)
Marvel dropped the last season of this show all at once, so I binged it. Overall, this season was pretty good and closed up the show pretty well. I didn't love Morgan LeFay, but it was interesting to see the little alliances formed between the kids and the parents as they deal with it all. Also, I liked the crossover with Cloak & Dagger. I'm not surprised the show got cancelled, but I'm glad the final episode was satisfying no matter what. If you haven't watched Runaways, I recommend it.
The Morning Show (season 1)
I also watched this one with my mother. I was worried it'd be too political and preachy, but it wasn't at all. I think the show did a good job of showing all sorts of sides in a sexual assault/harassment/misconduct case and how things can be misconstrued. I think it was at points, especially towards the end, a bit too dramatic, but overall, it was interesting, and I'm looking forward to the second season.
Spinning Out (season 1)
Netflix basically said, "Hey, are you secretly a little sad that Tessa Virtue and Scott Moir aren't actually getting married to each other? Well here's a figure skating show featuring actors who look a little too much like them!" and a friend and I said, "yes, thank you." Only there was hardly any skating at all in this show! Just a bunch of annoying drama from a bunch of really annoying characters. I do not want to watch the main character's bipolar mom cause family drama when off her meds. I do not want to watch a bartender who has nothing to do with skating overcome racism. I want to watch two people learn to skate nicely with each other and also fall in love. Major disappointment.
Upload (season 1)
The trailer for this show was giving knock-off The Good Place vibes, but the show really was a lot more than it seemed. It was a fun, techy take on the afterlife with a mystery subplot to boot. I can't say I loved the characters and it wasn't as funny as I expected, but at only ten 30-minute imaginative episodes, it's worth a watch.
The Bletchley Circle (Season 1 [San Fransisco] and Season 1-2 [UK version])
In early Coronavirus time, I found myself in my curling club's unofficial book club, and The Secret Lives Of Code Breakers is the book they chose to read. I did not read it and instead I watched all three seasons of the show. While it wasn't bad, I would not recommend them as they were kind of boring and I found the code-breaking parts rather weak.
Departure (season 1)
It's like Manifest but shorter and without a sci-fi element. I didn't hate it, but it wasn't anything special. Manifest is better.
Dash And Lily (season 1)
This was a cute concept but it was just obnoxiously YA through and through. These teenagers were too unrealistic. Lily was a sigh-inducing mix of Manic Pixie Dreamgirl and Not Like Other Girls. But the show was short so if you're bored and looking for something mindless for an evening, it's fine.

I also watched three episodes of Pennyworth and Merry Happy Whatever before getting bored and quitting.
---
Aaaaand that's it! Have you seen any of these shows? Is there another show, based on what I did like here, that you think I'd enjoy?
That's all for now!
Follow me: Twitter / Facebook / Instagram / Bloglovin' / Goodreads