There are so many great musicals out there. My list of favourites only keeps growing, but it's okay because my heart and ears have no limit. Of course, just because I love a musical, it doesn't mean I love every single song, and today I wanted to discuss which songs are my least favourite in the shows I hold closest to my heart. Not every song can be amazing. These are just my opinions and just a fun way for us to discuss musicals.
'When All Is Said And Done' from Mamma Mia (Listen here)
This song isn't in the stage production, but it is in the movie, and it is without a doubt the boring-est song of the show. We all know that Pierce Brosnan is not a spectacular singer, but this song really highlights this whereas it's not nearly as evident in songs like 'SOS'. Not to mention that it really doesn't do much in terms of the plot.
'Dear Old Shiz' from Wicked (Listen here)
Wicked's great songs are really great but the other songs are honestly not anything amazing, and this song in particular is really unnecessary and slow and doesn't really have any sort of lasting melody to hold on to. Plus, the musical barely focuses on Shiz, so I find it unnecessary.
'Letters From The Refuge' from Newsies (Listen here)
I'm technically cheating with this song as it was added to the show for the national tour and therefore was not on Broadway or the soundtrack, but still. As much as it was sweet to hear from Crutchie, using the same 'Santa Fe' melody again kind of made the song forgettable and we kind of already knew the refuge was not a great place anyway, so the song doesn't really help much in getting that point across. I don't think it needed to be added to the show at all. (If I had to pick a least favourite song from the soundtrack, it'd probably be 'That's Rich' for no reason other than I love the other songs more).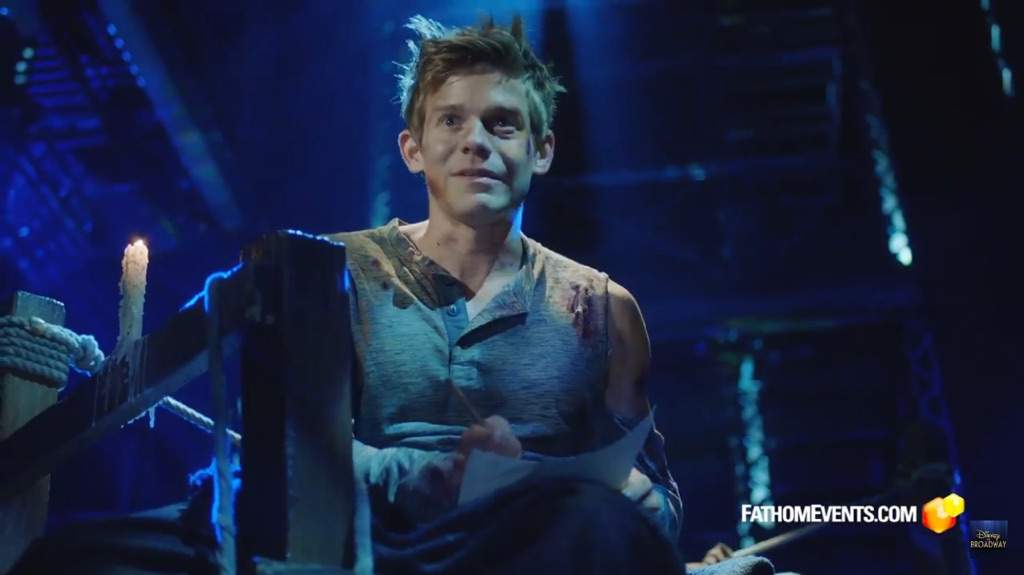 'Meet Me Inside' from Hamilton (Listen here)
As someone who is not a huge fan of rap/hip-hop, there are a few songs on this soundtrack that musically don't thrill me but they advance the plot well or are well written, but this song is not one of them. I can't describe the heartbeat-esque sound that's happening in the second half, but it makes me uneasy. Plus, this song just really shows how much of an idiot Hamilton can be.
'Legally Blonde Remix' from Legally Blonde (Listen here)
This is supposed to be a big moment in the show where things turn around for Elle, but I just don't enjoy how this song was done. They add up the tempo of the song 'Legally Blonde' that was so deep and heartbreaking, made the lyrics so disjointed by having so many parts to it that feel so rushed, and then had this long dance break that isn't fun to listen to unless you're watching it on stage. Like, we get it, she's legally blonde. You don't have to say it 5000 times.
'What A Woman Wants' from Kinky Boots (Listen here)
I find this song annoying. The "whatta man, whatta man" bits are so annoying and the salsa-dancing vibes feel out of place in the soundtrack. I just skip this song whenever I listen to the soundtrack because I just do not enjoy it.
'Climbing Uphill' from The Last Five Years (Listen here)
I adore so much about The Last Five Years, but I cannot stand this song. I don't mind the first part (though I don't love it by any means) but when it turns to Cathy's audition, I just hate it. I understand what they were trying to do, but I just don't like it. And then the song does shift back to tolerable parts, but the Anna Kendrick version ends so suddenly, which is just awkward to listen to. Of course, is the Broadway version where it ends with Jamie snapping at Cathy better? Unsure. It's bad all around.
'Requiem' from Dear Evan Hansen (Listen here)
I just find this song boring. It's sung well and all, but just boring. And especially compared to other songs in this show that are just so powerful. I know a lot of people dislike 'To Break In A Glove' but I kind of like that one more.
'Club Knocked Up' from Waitress (Listen here)
I debated whether or not this 46-second nonsense really counts as a song, but it does. It's annoying and an instant-skip for me.
'Lead Us Out Of The Night' from Come From Away (Listen here)
This show is so music heavy and every song has so much info and flows together so well that it's hard to pick one that's a least favourite, but I picked 'Lead Us Out Of The Night' because it's kind of slow and haunting and uncomfortable. I know that's the goal, but compared to the other songs, this one is weaker for sure.
'Those Canaan Days' from Joseph And The Amazing Technicolour Dreamcoat (Listen here)
I know this show jumps around in style a decent amount, but the French vibes in this song just don't do anything for me here. Plus this song is far too long and droning. It's the fourth longest song of the show, and all it's saying is that Joseph's brothers are not thriving. Pass.
If you've yet to see/listen to one of these musicals listed, don't let this post deter you. Truthfully, while these songs are my least favourite, most are not at all bad and if it weren't for this post where I actually had to pick them, I wouldn't really have least favourites. Does that make sense?
As always, I'd love to know your thoughts. Do you agree with my choices for least favourite? What are some of your other least favourite songs in your favourite musicals?
That's all for now!
Follow me: Twitter / Facebook / Instagram / Bloglovin' / Goodreads