I love musicals, but I don't love all musicals. There's no musical that I hate, but there are some that I have no desire to see again. I mean, I wouldn't turn down free tickets ever, but I would not pay to see these five shows in particular. However, I must note, that I have not seen these five musicals live on stage, and perhaps my dislike would change if I saw them in that format, but it's unlikely.
1. Falsettos
The revival of Falsettos in 2016 got so much hype, probably because it had a pretty recognizable cast including Christian Borle, Andrew Rannells, and Stephanie J Block. The show was even pro-shot! And then people were raging when it lost the Tony for Best Revival. But I was kind of glad because I did not like the show. They were all good singers, but I just found the music and the plot so boring. I was bored. I listened to the soundtrack too to see if there was at least a song that would stick with me, but nothing did. I understand that the show has some powerful moments, some sad moments, but it was not enough to hook me in. I was just forcing my way through.

2. SpongeBob SquarePants
I grew up watching SpongeBob so I was very familiar with the characters and setting. The musical did a lot of things right (for example, I like how they made them human-esque rather than in mascot costumes), but overall, I just did not love it. Maybe kids would. My two main issues with this show were that a) the music was kind of dull considering they had so many great, talented names behind the songs, and b) the plot was so different from the TV show's shenanigans. SpongeBob is a fry cook. He works and catches jellyfish and hangs out with Patrick. Bikini Bottom is pretty normal. Yet in the show, there's a volcano going to erupt, and it's up to SpongeBob, Sandy, and Patrick to save the city while everyone else has a concert fundraiser so they can afford to evacuate. It's just kind of not a typical SpongeBob scenario, and I was kind of disappointed overall.

3. Moulin Rouge
I had friends who were obsessed with this movie, but when I watched it, I was not into it. It was just too weird, and I just didn't like any of the characters. It was a little too artsy for me. That being said, if I come across a bootleg for the current Broadway production of Moulin Rouge, I will probably give it a go, if for nothing other than Aaron Tveit. I've heard that the soundtrack is good, and they picked some good modern songs to be a part of the medleys.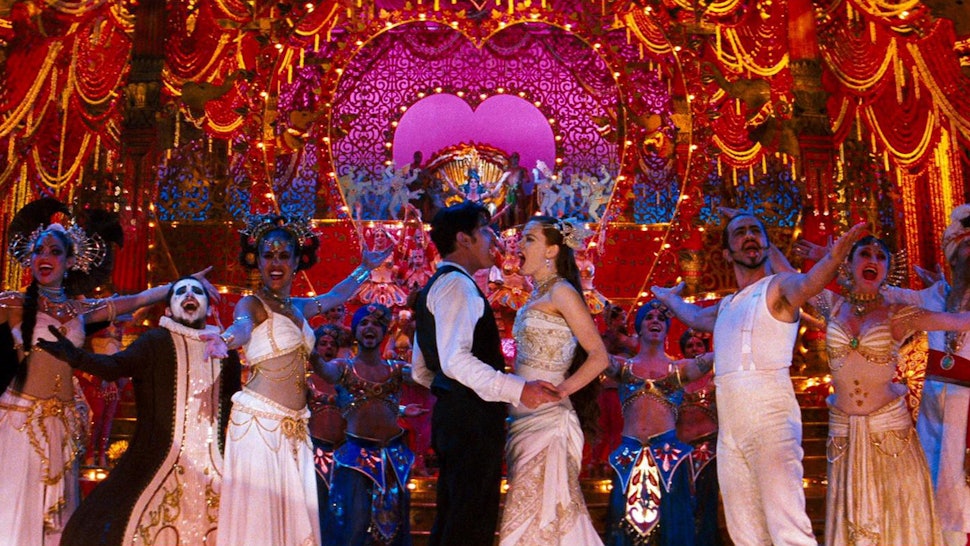 4. The Book Of Mormon
This is a very popular show that's toured all around the world, and while it is a very funny show at points and has a few good songs, I think it's just too vulgar for me. It's written by the people who made South Park, so it's not a surprise that this show does not hold back on making jokes about any topic. A lot of it is just gross, unrepeatable jokes that you could not make in any other setting. For a society so concerned that everyone and their dog is politically correct, I am honestly surprised this show has survived. Either way, I was not a fan of this show. When we went to New York a few years ago, my mother innocently suggested we go see it, but I shut that idea down real fast because you could not pay me to sit next to my fairly conservative parents and see that show.

5. Chicago
The one and only time I saw Chicago was the movie version at a sleepover in grade eight, but I was not impressed and have no desire to watch it again. I'll admit, I'm not usually a fan of older musicals because I don't jive with the music, but I also just didn't care for this plot. Even when Glee did some of the songs, I just was not into it. And yet, the show is the 2nd longest-running on Broadway, so clearly others like it.

There are a handful of other musicals I wasn't too impressed with based on the bootleg I saw or the soundtrack I listened to, but they aren't as popular and seemingly well-liked as these five are. Not every show can appeal to everyone, so I'm not embarrassed to voice dislike for these shows.
What are musicals you dislike even though everyone else seems to love them?
That's all for now!
Follow me: Twitter / Facebook / Instagram / Bloglovin' / Goodreads