So good news: I got a seasonal retail job! You may be thinking I'm a fool for wanting one of those positions at a notoriously awful time, but I've yet to experience a retail Christmas, and at this point, money is money. So that's the big news for my December. Of course, with work comes play, so there are also fun things I've got going on this month, and that's what this post is really about.
The big Crisis On Infinite Earths Arrowverse crossover begins this month. Every year I'm always excited for the crossover event, but this one promises to be bigger and better. A year in the making, it's boasting some real, deathly consequences and will be bringing some new people into the fold like Smallville's Clark and Lois, and the Kingdom Come Superman. This almost has Endgame levels of crossover coolness.
Nickelodeon (and YTV here in Canada) is airing Spongebob The Musical on Dec 7th and as much as that show was not a favourite of mine, it's still neat that it'll be pro-shot on TV and starring a lot of the original cast.
The Marvel TV show Runaways will start its third and final season on the 13th. Hopefully it'll be able to wrap up well because I do believe it's a decent show. And hopefully they can wrap up Ty and Tandy's story a little too, since Cloak And Dagger was (deservedly) canceled but the duo will be appearing this season in Runaways.

My best friend has been busy at school and we haven't had a lot of time to hang out or even talk much this fall, so I'm very much ready to see her when she's done exams and home for the holidays.
The fourth musical I'll be seeing live downtown is Anastasia. I know a lot of people enjoyed this show in NYC, so I'm excited to see it.
Obviously I'm looking forward to Christmas. I'm not sure which family we'll be seeing, though, if any.
I'm also not sure what I'll be doing for New Year's Eve. Fingers crossed I don't end up spending it alone.
The sneeze count for 2019 is coming to an end, and going through those stats and making my annual graph is immensely fun for me at the end of the month (probably on the 30th or 31st), so stay tuned in early 2020 for that blog post.
And that's my December! Christmas is my favourite holiday, so having a December that reflects the goodness is great. I hope you guys all have great Decembers too, even if you don't celebrate Christmas.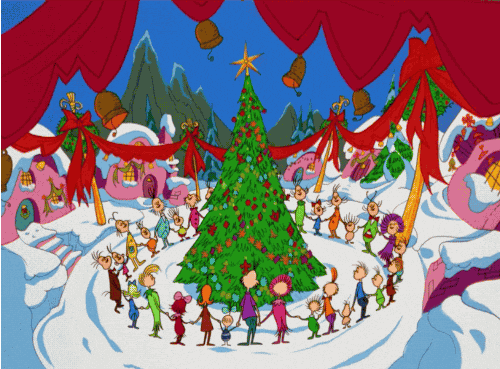 That's all for now!
Follow me: Twitter / Facebook / Instagram / Bloglovin' / Goodreads