As I mentioned in my blog post about making your own Magic Eye (a post that consistently gets a handful of views still) I wanted to do more sharing of fun stuff I come across online, be it memes or videos or articles. If I got amusement from it, I want you too as well. So I am starting a series on this blog called The Good Stuff (a phrase I use far too much in my daily life) where I share fun things I find online.
And I'm starting off with a bunch of videos in which a pastry chef attempts to make gourmet versions of popular junk food. Personally, I don't watch a lot of cooking/baking videos because I'm a picky eater, and I know I'm not motivated enough to try baking something I did like, but I find these Gourmet Makes videos very interesting. They ended up in my YouTube recommendations one night and I watched them all right then and there.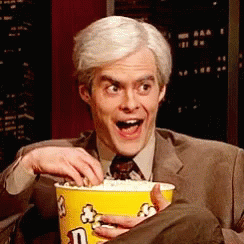 Claire, the chef and star, seems like a nice, smart person, and watching her work out solutions to obstacles she faces is cool because I know next to nothing about baking and cooking, but she's very knowledgeable and does it all systematically. You wouldn't think one person in a kitchen would be able to make a version of something that is normally made in a factory, but she does, and she does it well (even if she has access to a lot of cool baking tools that the average person wouldn't have in their house).
Skittles are one of my favorite candies, and they did one episode where Claire made them but with the goal of getting natural flavours. I'd like to think that Skittles are already perfect, but seeing her work on making them better and more flavourful is neat, and I wish I was in that kitchen to try them.
And it's not just candy she tries to make! She's done chips, cereal, and even ramen noodles. These are things most people have tried and enjoy so we can understand what she's doing to replicate them and why and also what changes she should make.
There are so far 12 episodes, all between 15 and 30 minutes, and there's a new one every month or so. Here's the playlist where you can watch them all. You know you want to.
And here we are, at the end of my first The Good Stuff post! I'm looking forward to sharing more in time!
That's all for now!
Follow me: Twitter / Facebook / Instagram / Bloglovin' / Goodreads