I was at a party last year and I was talking to this dude, a friend of a friend, and he mentioned how he could tell I didn't like the super loud EDM that was blasting around us. He was right. He asked what music I was into and I told him: "Pop music. Like, radio stuff…Broadway musical soundtracks…and Christmas music." He was kind of surprised. "Christmas music?" he asked. "I never heard anyone say they liked that." I informed him that it was the best and every year I get hyped for it. I saw him at another party a few months later. He remembered me. "Oh, yes, you're the one who likes Christmas music."
I guess if that's my social legacy, it's pretty nice one. Better than sneeze girl (Just kidding, I am very proud of my sneezes! Keep an eye out for my 2017 sneeze count!).
A lot of people say they like Christmas music, though they mean that they don't mind when it plays in the mall in December and they don't mind hearing it on the radio when they drive to the grocery store. I don't just like it. I love it. As soon as my local radio starts Christmas music (mid-November), my radio does not turn off unless I'm asleep or I'm watching TV. I know every song. I know the lyrics to every song. I can recognize every version within seconds. I never tire of hearing them.
And it's weird because as that guy at the party said, most people don't really love Christmas music like this. But I've been thinking about why I love it. What is it about Christmas music that makes me and some other people love this specific genre so much?
I think it's because it's so encompassing. There are happy songs and sad songs and religious songs and funny songs and upbeat songs and slow songs and songs that aren't even about Christmas and songs about snow and songs about sand and ethnic songs and lyric-less songs and old songs and new songs and so much more.
And there are so many covers and versions that the genre never gets stale. It's so great that known singers and up-and-comers can share in the holiday cheer. (Related: this post on non-traditional Christmas jams)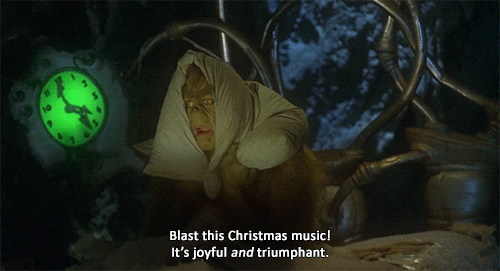 I guess I just love that for a little over a month, radio stations dedicate themselves to playing solid holiday music and that even the sad ones still make me feel happy because they do represent Christmas and all it has to offer. For a whole month, I don't have to hear annoying auto-tuned songs about binge-drinking and whatever other nonsense pop and rap music is about these days and enjoy the happy, simple themes of Christmas music.
Christmas music is, for the most part, pure, and I am thrilled that though music changes and styles change, Christmas music stays the same.
And that is why I love Christmas music and always, always will. My passion for it matches and even surpasses that of Dwight's.
Do you love Christmas music? On a scale of 1 to 10, how much do you love it? What's your favourite Christmas song?
P.S. Also leaving this here…can you help me find this Christmas song? I'm pretty sure I made it up, but just in case…
Follow me: Twitter / Facebook / Instagram / Bloglovin'