Season finales are great.
Series finales are great.
But you know what's not great? Season finales that end up being series finales. Those suck. Show cancellations suck.
As a fan, I know that writers/showrunners don't technically owe me anything, but I like to think that at the very least, I do deserve a good ending. A kind of thanks for sticking around. The same way a DJ plays a really great song to end their set. And I know that writers/showrunners aren't purposely withholding these from me, but I think there should be some changes as to how show endings are approached.
It's all about ratings. I know. Even shows with the most loyal fans and the highest critic reviews can be cancelled. Networks want money the best, and shows want to be on for as long as possible. But that means that sometimes shows start losing quality after a while. It happens to the best.
That's why I think a lot more shows need to realize when it's time to quit. They need to look at their ratings and see what the fans are saying and think about what they should do. If they really cared about their fans, they'd bow out and give the remaining loyal watchers a great ending. Yes, they may be able to survive for another year or so, but should they? Will things get better?
It's not just the cliffhangers that bother me. Yes, those suck too, but mostly I want to know that these characters I fell in love with find peace.
I think about all the shows that had planned endings and how freaking great most of those endings were. FRIENDS, ending by closing the door to the apartment and all walking to get coffee one last time. Glee, ending with a fabulous, group song. Parks And Recreation, by giving us glimpses into each characters' futures. Even How I Met Your Mother, ending by finally explaining Ted's love life. Those last episodes and last scenes leave marks on viewers.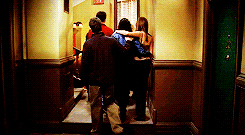 Compare that to Agent Carter, ending with Jack Thompson getting mysteriously shot, or Under The Dome, ending with more complications even when outside of the dome.
Writers/showrunners should, when writing and planning season finales, take a look at their ratings and talk to networks and really think about the possibility of this being the end, and if there is a chance, just make it a nice ending.
Smash was cancelled after two seasons, but it ended on a good note. Tonys were won, romances were had. It was fine, and I didn't feel cheated. Same with The New Normal, getting canned after one season; Bryan and David have their child and it's all happy.
I don't think people are going to be upset that the season didn't end on a cliffhanger. And I know that cliffhangers keep people coming back but newsflash! People can't come back if the show is cancelled!
But you know what? I don't think things are going to change. Whether thoughts about cancellations are being had or not, shows will still likely pretend that things are fine and dandy. So what can they do instead? Is there still a way to provide closure? Yes.
Fans of Team Starkid may have seen their old web series called Little White Lie, a show about siblings who start a band by stealing music from an acquaintance in a coma. Season 1 ends with Kevin, the guy in the coma, opening his eyes. So of course, fans like myself were desperate for more, but at the time, Starkid didn't have the funding or time to make Season 2, and some of the cast has moved on since. But what one of the writers (Eric Kahn Gale) did years later was release a general outline for what they had planned for the second season. That was outstanding. There was no more hypotheticals or fans writing their own second season, as a canon ending was provided.
Why can't TV shows do that too? I'm not looking for a novel (though I'd happily read one) but just a general summary of how any loose ends would be tied up. Take Agent Carter for example. As much as I'd love to know if Peggy and Sousa would have stayed together in Season 3 or how Ana is doing, what I really need to know is who shot Thompson and how that ties into Peggy's story/future at the SSR. I'm talking like half a page of writing. Or like, six tweets, I don't care. And if writers want to give more info, then they can, and fans will happily read it!
Just think about it, folks. Think about how much happier fans will be knowing that even if their favourite show gets cancelled, they'll still get to know what happens. No longer will fans be forever haunted by these endings. No more nights spent lying awake wondering what if. It's win-win because not only do fans get the info, but writers/showrunners get to share their Cool Plot Ideas. There is literally no downside.
There are several shows I watch right now that I absolutely adore, but I think a few of them are nearing their deaths. I don't want them to end, but I'm not ignorant enough to miss the signs. I'm just crossing my fingers that they have good endings. Planned endings. Ones that satisfy fans, the cast, and the writers.
Anyways, I'm just brainstorming here and trying to express how I feel about TV show endings. These are just hypothetical ideas, but it'd be great if they were ever used for real.
I'd love to hear your thoughts on the matter, so leave a comment. Or tell me which cancelled show's ending bothered you the most.
Follow me: Twitter / Facebook / Bloglovin'