Yes, that is the sport from Harry Potter.
Yes, I am a huge nerd.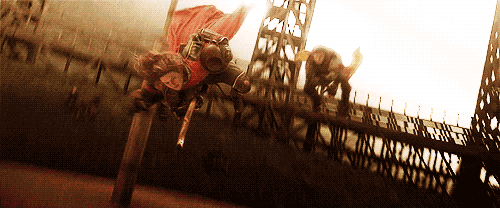 I've played all the sports. In my nineteen years of existence on this earth I've played hockey, soccer, basketball, tennis, badminton, curling, ballet, swimming, and baseball. Most were for about a year, but I did hockey, soccer and curling for several years, only quitting when I didn't have an interest in them anymore.
I don't have a huge interest in sports, really. I mean, I'm not athletic and never really excelled in anything. After I quit soccer in grade 9, I didn't really run much at all (to the point where I now get winded running up a flight of stairs…it's pathetic, I know). I can't stand watching sports on TV (with the occasional exception of curling, and synchronized diving because that looks cool) and when my family discusses sports around the dinner table, I tune out.
So it's funny that I'm here, happily playing such a weird, intense sport like Quidditch. My school has a team and I hesitantly signed up, intending to see how it goes. So far so good. I look forward to practices and I like the team members and I have fun!
But yes, it is an intense sport. I'm getting exercise, as the game involves constant running (with a broom between your legs no less, so that took adjusting to). Not only that, but it's a contact sport, so I have a mouth guard (which I haven't had to need since hockey eight years ago) and we've been learning to tackle and get tackled. That part is admittedly, not my favourite as I am not a physically aggressive person, but I figure that I'll use my skills of invisibility to avoid most contact. My skills of invisibility include not talking or moving much and generally staying away from the action. This leads to no one noticing you or doing anything to you. This is handy for my position as chaser, where I am one of three people trying to get the quaffle into the hoops. I can run up pretty unnoticed and then get passed the ball to score. I'm also assuming that since it's a Harry Potter sport, the majority of players will be averaged sized people like me, not hulking football players, so it won't be as intimidating.
Now, I can imagine that if you're reading this and have no Harry Potter knowledge you'd be very confused, and even as a fan, you still may not know how the game works without flying, so here's an overview:
There are four positions: seeker, chaser, beater and keeper. Seekers (one per team) have one job, and that's to catch the snitch (which is a dude who runs around and you have to grab a small ball from him). Chasers (two others and me!) have to take a ball called the quaffle and go score on one of the other team's three hoops (they're vertical hoops, unlike horizontal basketball ones). There's one quaffle so the other team is trying to do the same. At the same time, chasers are trying to avoid being hit with a ball called the bludger. If they are hit, they have to get off their broom and run back and touch their own hoop post before coming back into the game. Beaters (three per team) are the ones throwing the bludgers. They're the defence system for the team, and they try to strategically get the other team's chasers out so their team can score. Keepers (one per team) are essentially the goalies. They hang back and defend the hoops mostly, but they can handle the quaffle too, so sometimes they leave their zone to help out the chasers.
It's a fun game that never has dull moments. Constant action from everyone always. Yay! It's tiring, but it's the only exercise I get ever, so I know it's good for me.
If you're in school still, see if your school has a Quidditch team that you can join because I highly recommend it. A bonus is that everyone who plays it is usually a Harry Potter fan so you're probably going to be on a team with super fun nerds like yourself. Also, bonus pro-Quidditch point: if you're ever insecure about having chubbier legs/thighs, then Quidditch is the sport to correct that, as holding a broom between your legs is not easy if you're thin, but having a little extra grip up there is great.
Anyways, how do I convince my team to do this dance with me?

(I cut the video off after the Quidditch scene but if you haven't seen AVPM/S/SY then go watch them!)
That's all for now!
P.S. I just realized that there are two sports in this world that involve the use of a broom and in the past three years, I've exclusively played them both.